Après 3 EPs, FOLLOW ME NOT revient cette fois-ci avec un 1er long format. Composé de 8 titres, Nothing's Gonna Be Alright, place l'auditeur dans une ambiance post-punk, avec certains titres plus atmosphériques en fin d'album. On y entend sans doute les influences de The Jesus and mary chain, Bauhaus, The Cure...
Un des morceau est sur le player de la page myspace de FMN.
Un « clip » illustrant ce même morceau Car Crash est visible ici :
https://www.youtube.com/watch?v=WfOTQJ7nyeE
L'album est disponible en deux versions :
- En CD-R dans une pochette cartonnée, avec un feuillet. Cette version inclut en bonus un 9ème titre.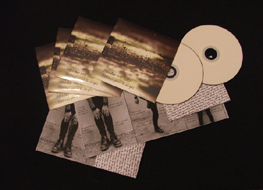 En vente 5 Euros (plus les frais de port). Paiement paypal possible sur :
http://followmenotband.blogspot.com
ou bien
- téléchargeable gratuitement sur le site du label Toadstool Mycena Records :
à partir de demain normalement !
http://toadstoolmycenarecords.site11.com/toadstoolmycenarecords.html
http://www.myspace.com/followmenot
http://followmenot.bandcamp.com
http://www.myspace.com/toadstoolmycenarecords
Les avis sont les bienvenus !