[TOADSTOOL MYCENA RECORDS 002] Follow Me Not - Nothing's Gonna Be Alright
Après 3 EPs, FOLLOW ME NOT revient cette fois-ci avec un 1er long format. Composé de 8 titres, Nothing's Gonna Be Alright, place l'auditeur dans une ambiance post-punk, avec certains titres plus atmosphériques en fin d'album. On y entend sans doute les influences de The Jesus and mary chain, Bauhaus, The Cure...
Le titre Car Crash est sur le player de la page myspace
http://www.myspace.com/followmenot
Un
Slide Show
illustrant ce même morceau est visible ici :
http://www.youtube.com/watch?v=WfOTQJ7nyeE
L'album est disponible en deux versions :
- En CD-R dans une pochette cartonnée, avec un feuillet. Cette version inclut en bonus un 9ème titre.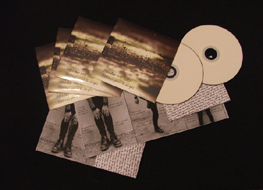 En vente 5 Euros (plus les frais de port). Paiement paypal possible sur :
http://followmenotband.blogspot.com
ou bien
- téléchargeable gratuitement
ICI
http://www.myspace.com/followmenot
http://followmenot.bandcamp.com
http://www.myspace.com/toadstoolmycenarecords
http://toadstoolmycenarecords.site11.com/toadstoolmycenarecords.html
CODE FOFO
Code:

[url=http://blogs.myspace.com/index.cfm?fuseaction=blog.view&friendId=77662722&blogId=539355134][TOADSTOOL MYCENA RECORDS 002] Follow Me Not - Nothing's Gonna Be Alright[/url] [url=http://blogs.myspace.com/index.cfm?fuseaction=blog.view&friendId=77662722&blogId=539355134] [/url]

[img]http://c2.ac-images.myspacecdn.com/images02/147/l_f4b17db094194440a61d37aca0df8ae9.jpg[/img]

Après 3 EPs, [color=orange]FOLLOW ME NOT[/color] revient cette fois-ci avec un [color=orange]1er long format. [/color] Composé de 8 titres, [color=orange]Nothing's Gonna Be Alright[/color], place l'auditeur dans une ambiance post-punk, avec certains titres plus atmosphériques en fin d'album. On y entend sans doute les influences de The Jesus and mary chain, Bauhaus, The Cure...

[img]http://c4.ac-images.myspacecdn.com/images02/120/l_00c62338070745eba6ee65a9db6b8d8b.jpg[/img]

Le titre Car Crash est sur le player de la page myspace
[url=http://www.myspace.com/followmenot]http://www.myspace.com/followmenot[/url]

Un [i]Slide Show[/i] illustrant ce même morceau est visible ici :
[url=http://www.msplinks.com/MDFodHRwOi8vd3d3LnlvdXR1YmUuY29tL3dhdGNoP3Y9V2ZPVFFKN255ZUU=]http://www.youtube.com/watch?v=WfOTQJ7nyeE[/url]

L'album est disponible en [color=orange]deux versions[/color] :

- [color=orange]En CD-R dans une pochette cartonnée, avec un feuillet. Cette version inclut en bonus un 9ème titre.[/color]

[url=http://www.msplinks.com/MDFodHRwOi8vd3d3LmNhc2ltYWdlcy5jb20v][img]http://nsm04.casimages.com/img/2010/09/22//100922090316445256799465.jpg[/img][/url]

En vente 5 Euros (plus les frais de port). Paiement paypal possible sur :
[url=http://followmenotband.blogspot.com]http://followmenotband.blogspot.com[/url]

ou bien

-[color=orange] téléchargeable gratuitement [/color][url=http://www.multiupload.com/4UTGAF457K] [size=24][b]ICI[/b][/size][/url]

[url=http://www.myspace.com/followmenot]http://www.myspace.com/followmenot[/url]
[url=http://www.msplinks.com/MDFodHRwOi8vZm9sbG93bWVub3QuYmFuZGNhbXAuY29tLw==]http://followmenot.bandcamp.com[/url]
[url=http://www.myspace.com/toadstoolmycenarecords]http://www.myspace.com/toadstoolmycenarecords[/url]


[url=http://toadstoolmycenarecords.site11.com/toadstoolmycenarecords.html]http://toadstoolmycenarecords.site11.com/toadstoolmycenarecords.html[/url]
Code BLOG/MYSPUTE
Code:

<img border="0" src="http://c2.ac-images.myspacecdn.com/images02/147/l_f4b17db094194440a61d37aca0df8ae9.jpg" /><br /><br />Après 3 EPs, <font color="orange">FOLLOW ME NOT</font> revient cette fois-ci avec un <font color="orange">1er long format. </font> Composé de 8 titres, <font color="orange">Nothing's Gonna Be Alright</font>,
place l'auditeur dans une ambiance post-punk, avec certains titres plus
atmosphériques en fin d'album. On y entend sans doute les influences de
The Jesus and mary chain, Bauhaus, The Cure...<br /><br /><img border="0" src="http://c4.ac-images.myspacecdn.com/images02/120/l_00c62338070745eba6ee65a9db6b8d8b.jpg" /><br /><br />Le titre Car Crash est sur le player de la page myspace<br /><a href="http://www.myspace.com/followmenot" class="postlink" target="_blank">http://www.myspace.com/followmenot</a><br /><br />Un <i>Slide Show</i> illustrant ce même morceau est visible ici : <br /><a href="http://www.msplinks.com/MDFodHRwOi8vd3d3LnlvdXR1YmUuY29tL3dhdGNoP3Y9V2ZPVFFKN255ZUU=" target="_blank">http://www.youtube.com/watch?v=WfOTQJ7nyeE</a><br /><br />L'album est disponible en <font color="orange">deux versions</font> :<br /><br />- <font color="orange">En CD-R dans une pochette cartonnée, avec un feuillet. Cette version inclut en bonus un 9ème titre.</font> <br /><br /><a href="http://www.msplinks.com/MDFodHRwOi8vd3d3LmNhc2ltYWdlcy5jb20v" class="postlink" target="_blank"><img border="0" src="http://nsm04.casimages.com/img/2010/09/22//100922090316445256799465.jpg" /></a><br /><br />En vente 5 Euros (plus les frais de port). Paiement paypal possible sur :<br /><a href="http://www.msplinks.com/MDFodHRwOi8vZm9sbG93bWVub3RiYW5kLmJsb2dzcG90LmNvbS8=" class="postlink" target="_blank">http://followmenotband.blogspot.com</a><br /><br />ou bien<br /><br />-<font color="orange"> téléchargeable gratuitement </font><a href="http://www.msplinks.com/MDFodHRwOi8vd3d3Lm11bHRpdXBsb2FkLmNvbS80VVRHQUY0NTdL" target="_blank"><font color="orange"></font> <font size="5"><b>ICI</b></font></a><font size="5"><b></b></font><br /><br /><a href="http://www.myspace.com/followmenot" class="postlink" target="_blank">http://www.myspace.com/followmenot</a><br /><a href="http://www.msplinks.com/MDFodHRwOi8vZm9sbG93bWVub3QuYmFuZGNhbXAuY29tLw==" class="postlink" target="_blank">http://followmenot.bandcamp.com</a><br /><a href="http://www.myspace.com/toadstoolmycenarecords" class="postlink" target="_blank">http://www.myspace.com/toadstoolmycenarecords</a><br /><br /><br />